Should you choose a Vacation Rental House or Condo?
While it's really a matter of taste, we believe there are many compelling reasons to choose Destin Florida house rentals.  Should you have the means. . .   Bueller –  Bueller.  Consider Destin Florida house rentals. The information provided here will show you how you can upgrade your next vacation to a house at about the same cost to you.
Destin Florida house rentals are becoming more and more popular because they offer so much over the hotels or condos. While the hotels and condos can offer a less expensive way to have direct beach access and views if you are traveling as just a couple, the benefits overwhelmingly add up in favor the the luxury beach house rental like Doctors Orders when traveling with a group.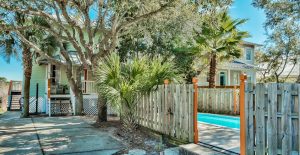 Facts to know when considering House vs Condo for Destin Florida House Rentals
Beach Houses provide BETTER BANG FOR THE BUCK

Beach House sleeping 12 People during Peak Season $4000 a week, $308 per person, $44 per day per person
during spring or fall season approx $2500, $208 pp, $30 per night pp
even less during winter.  During our specials, it gets down to less than $10 per person per night!

Many Beach Houses let you BRING FIDO. Your little buddies would love to be with you on your vacation.
Houses have MORE SPACE.  Bigger rooms, bigger kitchen, bigger baths, more parking.
Houses with private deeded beach access usually have BETTER BEACH ACCESS.  Usually a 1/10 ratio vs the public beaches or Condo beaches.
Houses provide a means to KEEP FAMILY & FRIENDS TOGETHER.  You wont have to be in different building or on different floors!
When you stay in a house, you will be LIVING LIKE A LOCAL.  You'll feel it when you pull in, walk the street, chat with the neighbors!
Houses have way more PRIVACY – you wont hear or see the strangers on the other side of the walls.
Houses can have a PRIVATE POOL – Anytime your group wants to use it, all fenced in.

Private Pool. Safe for kids. Romantic for Adults.

Destin Florida house rentals are affordable for groups!

Houses often have their own BALCONY or PORCH to enjoy the morning coffee while on your Destin vacation rental.
Doctors Orders Beach House rental has a GOURMET KITCHEN – Fully stocked, full size refrigerator, Keurig coffee maker.
Those who truly appreciate FRESH SEAFOOD or steak cooked to perfection will need a full size BBQ like provided @ Doctors Orders Destin Beach House.
Houses have their own WASHER and DRYER – pack less clothes as you can wash what you bring.
Houses have BETTER BEDS and AMENITIES – Destin Florida house rentals managed by the owner are their pride and joy.  No Company will care for you as well!
Condos wont have as many bedrooms and baths. Houses have MORE BEDS and BATHS so less sharing
Houses like Doctors Orders come with extras like KAYAK, BIKES, BEACH UMBRELLAS and CHAIRS included.
Of course there is a whole Destin Florida house rentals experience that can't be had from a condo. Seems like you are really living like a local when you select Doctors Orders Beach House as your Destin Vacation Rental.  Check out our visions of Destin gallery to imagine some of the memories you can gain while staying at Doctors Orders. Here are a few thoughts from the main website as to what you will get.
Destin Florida house rentals
Isn't it easy to get sick of work, sick of stress and sick of a fast-paced life these days! The cure? A quiet getaway as your choice of Destin Florida house rentals should be Doctors Orders in Kokomo Cove! This Destin Florida vacation rental sits just enough off the beaten path to offer real peace and tranquility. Most of all, there are no parking lots, cement jungles or noisy neighbors here! It's wooded surroundings encompass views of two inlets. The Destiny West lake speckled with charming wildlife that call it home.
Another pleasant side effect choosing Destin Florida house rentals is its location near Destin's most powerful medicine- the soothing Gulf of Mexico. Head two blocks from the front porch and see the sun sparkling on the emerald water like diamonds, feel the powder-soft sand between your toes and listen to the rustle of sea oats in the Gulf Breeze. Therefore, this powerful combination is sure to heal whatever ails you! Also Noteworthy is how Kokomo Cove's entry also crosses a newly paved walking path that stretches the length of the beach road. Furthermore, restaurants, shops and even golf courses dot this scenic route and provide entertaining way-points for a sunny bike ride.
In addition to the natural beauty all around, be sure to view the full photo gallery and a Virtual Tour is here or by clicking "Beach House" on the menu. Quotes can be found here.
Destin Florida House Rentals – Live like a Local!
Doctors Orders vacation beach house rental is just one block from the sugar white sands of Crystal Beach. The clear waters of the Emerald Coast will leave you awe struck.  During the season the water is warm and Crystal Beach is shallow enough to walk out for quite a way.  See the live cam feed of Crystal Beach, Florida Fl, just a few hundred feet from our private beach access. You will be amazed when you look down through the clear waters.  Then you will see your feet at the bottom with fish swimming around your ankles.


The white sands of the shore are so pristine you will enjoy walking in it. Sea creatures are all around for the observant eye to muse at. Of course the main part of the day is why most people come, to enjoy the warmth beneath their toes, and feel the sun on your skin.  However, if your staying right by the beach, one must take in a walk with friends and loved ones during sunrise.
The tranquility is just what the Doctor Ordered! Since you're in no hurry to get back, be sure to stay through dusk. Just when you thought the sights of the day were better than you've seen in years. You can look up and enjoy the sunset on Crystal Beach with nothing to obscure your view for miles.
We hope you select Doctors Orders Beach House when considering Destin Florida House Rentals.