Best Breakfast in Destin Florida
Next time you vacation at Doctors Orders Beach House
What do you remember about your last vacation?  For most of us travelers, its not just where we went, its where we ate.  So lets talk about where to get the best breakfast in Destin Florida.  Before you head out to the sun and sand when staying in Destin Florida, there are some great restaurants you'll want to try for breakfast to start your day off right.  Here are some of our favorites in this slice of paradise.
Try our favorites . . .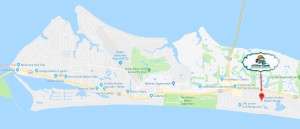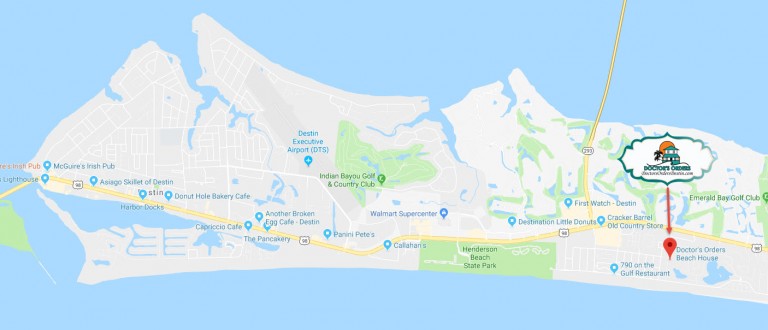 The Donut Hole
635 Harbor Blvd
Destin Florida 32541
Ph. 850-837-8824
Fine dining?  Perhaps not.  After all, this is the Donut Hole.  But sometime during your stay at our beach house rental you are likely to just crave a donut or two, or maybe a great, fresh pastry to go with your morning coffee.  From simple, basic breakfast food to fancy selections from the bakery, your family will enjoy this fresh approach to the day.  Another local favorite, the Donut Hole is open seven days a week, 24 hours a day, so stop in anytime.  Its not just a breakfast spot.  And don't forget to pick up one of their excellent key lime pies to take back to your Destin beach house rental.  Not sweet on key lime pie?  No problem.  Their bakery offers up a great selection of delectable desserts.

Harbor Docks
538 Harbor Blvd
Destin, Florida 32541
Ph. 850-837-2506
It may surprise you to discover that one of the best seafood restaurants in the area also offers a great breakfast, including omelets, breakfast sandwiches, and sides.  Open from 7 to 11 am, seven days a week, sleep in a little at your Destin beach house rental, and then head to Harbor Docks to enjoy a pleasant view of the Destin harbor.  Sip a mimosa while you plan your day.  While you're there, check out their menu of locally caught, fresh seafood, and you will see why this is also a local favorite for lunch and dinner.  The prices are reasonable, the view is great, and the food is hard to beat.

Paula Deen's Family Kitchen
4237 Legendary Drive
Destin Florida 32541
Ph. 850-312-5353
Now open in Destin Commons which is just a few blocks from the DoctorsOrdersDestin beach houses. "At Paula Deen's Family Kitchen, guests will enjoy classic Deen family recipes in a unique family-style setting just like they do in their very own homes. We serve up endless portions of Southern-Style entrees and side dishes, and every visitor ends their meal with a dessert of their choice! Our restaurant brings friends and families together over a meal, while offering up a one-of-a-kind dining experience you're sure to remember."
Another Broken Egg
755 Grand Blvd #107B
Miramar Beach, Florida 32550
Ph. 850-424-3416
Made Fresh, Made with Creativity.
Another Broken Egg Cafe's passion is to create Southern-inspired breakfast, brunch and lunch dishes, with an artisanal flair, that are "craveably" delicious and can pair with refreshing, hand-crafted cocktails!
Nothing Short of Right is Right.
We believe that every detail is important to making our guests happy. We strive to provide exceptional, hospitable service to create a unique experience for every guest, every time.

McGuire's Sunday Brunch
33 US-98
Destin, Florida 32541
Ph. 850-650-0000
Make sure to bring your appetite when you're planning on coming for McGuire's brunch. If you've ever had dinner here, you'll know they don't short you on the portions. Once a week they open their doors for brunch offering omelettes, burgers, steaks and of course, bottomless mimosas and champagne!A limited specialty brunch menu means McGuire's hits another one out of the park. Not only are they one of the most popular restaurants to have breakfast in Destin Florida, they now present one of the best brunch experiences also. They offer a large variety of omelets, benedicts … and yes, steaks! Plus their list of brunch libations is excellent… Irish coffee and Bloody Mary's … or how about bottomless champagne and mimosas for only $5.99.  Your sure to head back to your Destin vacation rental feeling relaxed.
790 on the Gulf (Sunday Brunch) – Located in the Inn at Crystal Beach on Old Scenic 98, you must check out their Sunday brunch… you will not be disappointed. Louisiana-style eggs benedict, omelets, beignets are classic dishes you might find in New Orleans. There are over two stories of glass windows overlooking the Gulf, or you are welcome to sit outdoors in the large, outdoor dining area just steps away from the sand dunes and the Gulf. Brunch is served from 11am-3pm. Oh … and don't forget their bread pudding… plus bottomless champagne and mimosas.

Capriccio Cafe
810 Harbor Blvd
Destin, Florida 32541
Ph. 850-460-7050
Let's start with coffee!  When staying in a Destin Florida vacation rental, you still need to satisfy that craving for coffee.  When you choose Doctors Orders as your Destin vacation rental, you might want to line up some great restaurants to try.  Coffee and crepes?  Why not?  With imported coffees, cheeses, and meats from Italy, Capriccio Café is a nice place to enjoy a second cup before you dive in to your day. The delicious crepes may be stuffed, but you won't be.

First Watch
4427 Commons Dr E
Destin, Florida 32541
Ph. 850-460-9800
This award-winning restaurant finally came to Destin in September of 2016, and quickly became a crowd favorite.  With over 180 locations across the country, each one has the feel of a local, home grown place for breakfast, brunch or lunch.  From healthy to hearty and a combination of both, the menu offers some unusual, but very tasty options.  If you just want something more traditional, they can handle that too.  You won't go away hungry.  This is another of our beach house rental favorites to have breakfast in Destin Florida.

The Pancakery
960 Highway 98 East, Suite 104
Destin, Florida 32541
Ph. 850-269-0791
Have you ever tried a bacon-infused pancake?  Did you even know they existed?  Just one of the many unique, imaginative pancake selections at The Pancakery.  Of course, you can settle for more ordinary breakfast fare, but with so many decadent indulgences to choose from, how can you resist.  Bananas Foster crepes?  Yes!  Chocolate chip pancakes with chocolate sauce and whipped cream?  Yes!  Is your mouth watering yet?

Cracker Barrel
34930 Emerald Coast Pkwy
Destin, Florida 32541
Ph. 850-269-3344
Who doesn't love Cracker Barrel?  Whether you want a big farmhouse breakfast to start your day or just a stack of great pancakes and coffee, everyone in the family will find just the right thing that will say, "We're on vacation!"  The cozy atmosphere, great service, and attention to all your wants and needs make Cracker Barrel a great choice.  We love their pancakes so much that we buy the pancake mix from their store so we can take that vacation breakfast home with us. Your beach house vacation isn't complete without rolling down the street to our closest restaurant.

Crackings
979 US-98 E
Destin, Florida 32541
Ph. 850-650-0499
Crackings are experts in meals that occur before dinner — specifically breakfast, lunch, and brunch. So if you find yourself in need of sustenance before 2 p.m., this is the place for you. Their menu items include everything from traditional breakfast favorites to handcrafted seasonal selections and signature cocktails. No matter what you order it is guaranteed to be an Instagram-worthy meal.

Be sure to try some of these wonderful restaurants for breakfast in Destin Florida.