Vacation Rental Houses are becoming more and more popular because they offer so much over the hotels or condos. While the hotels and condos can offer a less expensive way to have direct beach access and views if you are traveling as just a couple, the benefits overwhelmingly add up in favor the the Luxury Beach House Rental like Doctor's Orders when traveling with a group.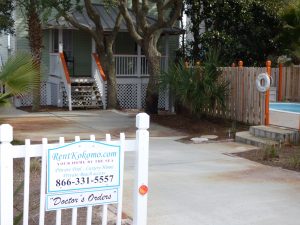 Beach Houses provide BETTER BANG FOR THE BUCK

Beach House sleeping 12 People during Peak Season $4000 a week, $308 per person, $44 per day per person
during spring or fall season approx $2500, $208 pp, $30 per night pp
even less during winter

Many Beach Houses let you BRING FIDO. Your little buddies would love to be with you on your vacation.
Houses have MORE SPACE.  Bigger rooms, bigger kitchen, bigger baths, more parking.
Houses with private deeded beach access usually have BETTER BEACH ACCESS.  Usually a 1/10 ratio vs the public beaches or Condo beaches.
Houses provide a means to KEEP FAMILY & FRIENDS TOGETHER.  You wont have to be in different building or on different floors!
When you stay in a house, you will be LIVING LIKE A LOCAL.  You'll feel it when you pull in, walk the street, chat with the neighbors!
Houses have way more PRIVACY – you wont hear or see the strangers on the other side of the walls.
Houses often have their own BALCONY or PORCH to enjoy the morning coffee.
Doctor's Orders Beach House has a GOURMET KITCHEN – Fully stocked, full size refrigerator, Keurig coffee maker.
Houses have their own WASHER and DRYER – pack less clothes as you can wash what you bring.
Houses have BETTER BEDS and AMENITIES – This home is the owners pride and joy, and they are sharing it with you
Houses have MORE BEDS and BATHS so less sharing
Houses like Doctor's Orders come with extras like KAYAK, BIKES, BEACH UMBRELLAS and CHAIRS included.